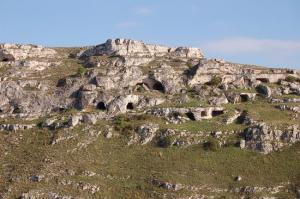 The murgia is a stone and carsico territory, rich of a peculiar vegetation, in which area there are about 900 vegetal species: cardoncelli mushrooms, selvatic orchids, ferulas and officinal plants.
The excursion in the Murgia and Parietal Churches Park is very interesting for both children and adults because it is complete, going through important landscapes, from prehistory to the bronze age, until the medieval age.
There also are some traces of many neolithic villages, and many caves from the bronze age and parietal churches from X-XIV c. In addition to this, you can find natural and artificial caves, jazzi and farms.
This tour covers the original itinerary of transhumance.