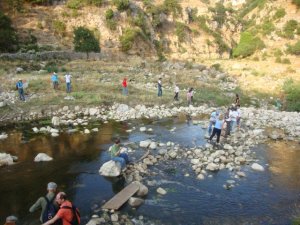 Length: 2 hours e 30 minutes
The Gravina di Matera and the parietal sites: the start is at the panoramic terrace in "Porta Pistola" in the Sassi di Matera. The itinerary will take you on the slope in the Gravina area. You'll see the stream and reach the parietal little church "Madonna di Monteverde". Successively,  you will climb the hill to reach and visit the cenobitic church "Madonna degli Angeli". Then, you will visit the medieval farmhouses "Madonna delle Vergini". While coming back, you will take the same route in order to admire the "Gravina" ecosystem.
Comfortable clothes, trekking shoes and a backpack with food and water are required for this route.
Max 15 participants per group.