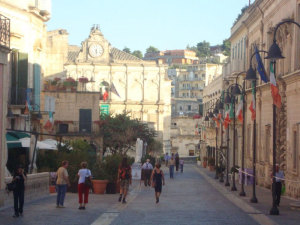 Lenght: 2 hours
The itinerary goes through romanic churches and baroque buildings. You will have a walk along a flat route, in the historical centre of Matera.
The start is in Piazza G. Pascoli, from which you can admire the astonishing view of the Sasso Caveoso and the grotte della murgia. In piazza Pascoli there is Palazzo Lanfranchi, from XVII c. This used to be a high school, in which the Italian poet Giovanni Pascoli taught for a while. Today it is the location of the Modern and Medieval Art Museum. The museum hosts different rooms where there are medieval sculptures and two galleries, one of which is dedicated to Carlo Levi's works.
Few metres farther, there is a building that used to be a monastry dedicated to S. Chiara (XVII c.). Originally, the building also was a hospital built thanks to Vescovo Lanfranchi. Today, this building is the location of the National Archeology Museum, where you can find collections donated by the archaeologist Domenico Ridola in 1920, enriched by further findings in the Lucanian Territory.
Next to the museum, you will find the majestic Baroque church of "Purgatory" (XVIII c.), presenting a curve facade and some sculptures in chalky material, which are about death. The inside is very interesting: there is only one greek-cross-nave, with very nice canvases by the Lucanian artist Vito Antonio Conversi (XVIII c.).
The next step is the Rococo styled S. Francesco d'Assisi church, built on the edificata sulla Crypt of S. Pietro e Paolo (XII c.). On the top of the majestic church there is the statue of the Virgin Mary and, on her sides, two statues of "S. Francesco e S. Antonio da Padova". The inside is made up by one nave and beautiful lateral chapels.
Following via del corso, you get to the central Piazza Vittorio Veneto where palazzo dell'Annunziata dominates, the old monastery of Domenican nuns, built in 1734. The building has been used as monastery until 1861, then it became the location of the court; however, now it hosts the Provincial Library.
In front of the Annunziata building, you can see the beautiful bell tower with its church of "Materdomini" or "Cavalieri di Malta". It was built on commission by the commendator Zurla, from the "Gerosolisimani" order. On the facade you can see the rib vault with eight tips.
Next to the Materdomini church there is the piazzetta "Guerricchio", a balcony with a view on the Sasso Barisano and the "Civita", where there is the romanic cathedral dedicated to S. Maria della Bruna. In the hypogeum in piazza V. Veneto, there is the unmissable visit to underground Matera, where you can see the dig aqueduct (the palombaro lungo).
Few metres away, in S. Biagio street, you can see the beautifulA pochi metri, in via S. Biagio si visita la bellissima chiesa romanica di S. Giovanni Battista sec. XIII.